Netflix 2023 Q1 Earnings Report: How to Trade After Underwhelming Results
Netflix announced low growth in new subscribers amid the company's ongoing effort to grow revenues through increased advertising and a crackdown on password sharing.
After trending lower for most of 2022, tech stocks top of mind this spring as investors and traders assess current valuations relative to Q1 earnings.
On Tuesday, Netflix (NFLX) released its Q1 earnings report, and the results were mostly underwhelming.
For the first quarter of 2023 Netflix reported revenues of $8.16 billion and earnings per share (EPS) of $2.88. Those figures were mostly in-line with expectations, as analysts had projected $8.18 billion in revenue and $2.86 in EPS.
Investors and traders zeroed in on subscriber growth, which is viewed as one of the most important data points in any Netflix earnings report.
One year ago, shares in Netflix plunged by roughly 35% after the company reported a surprise drop in overall subscribers. The company experienced a net loss of 200,000 customers during Q1 of 2022, which was especially shocking because the company had added roughly 8.3 million net subscribers during Q4 of 2021.
Since then, Netflix has been playing catch up, as it relates to both subscriber growth and stock price.
From a subscriber perspective, Netflix appears to have staunched the bleeding—the company has reported positive net subscriber growth in each of the last three quarters, as highlighted below:
Q1 2023: added 1.7 million
Q4 2022: added 7.6 million
Q3 2022: added 2.4 million
Q2 2022: lost 970,000
Q1 2022: lost 200,000
Q4 2021: added 8.3 million
The turnaround in subscriber growth has also translated to a rebound in Netflix's underlying share price.
Last spring, Netflix stock crashed from above $370/share, all the way down to roughly $180/share. However, over the last 12 months, the stock has rallied back above $300/share.
Since May 9, 2022, Netflix shares are up roughly 80%. That said, the stock is still trading down roughly 52% as compared to its closing all-time high, which was set at $691.69 on Nov. 17, 2021.
After the company released its earnings report on April 18, Netflix shares dropped by about 10% in after-hours trading. But the stock has since rebounded and closed April 19 trading down only 3%, at about $323/share.
Advertising revenue and password sharing
After the surprise drop in net subscribers during Q1 of last year, Netflix unveiled two new initiatives to help drive fresh sales growth.
One of those initiatives focused on advertising revenue. Last November, Netflix launched its "Basic With Ads" service in the United States and 11 other countries. Subscribers in the U.S. now pay $6.99 per month for an ad-supported version of Netflix.
In 2023, Netflix projects to pull in roughly $600 million in revenue from advertisements, and hopes to grow that figure to $4 billion by 2030.
Last year, the company reported about $32 billion in annual revenues, which means that advertising currently accounts for less than 1% of the company's total sales. If the company's projections prove accurate, advertising revenue could represent as much as 12% of total revenue by 2030.
In addition to advertising, the company also hoped to drive fresh revenue growth by cracking down on widespread password sharing among its subscribers. Netflix has roughly 230 million total subscribers and is hoping that a crackdown on password sharing will help boost that figure going forward.
During the company's Q1 earnings call, leadership at Netflix indicated that password-sharing fees will be introduced in the U.S. at some point in Q2 2023. If that does come to pass, the company's Q2 earnings report in July will be a much-anticipated event. Investors and traders will be watching closely to assess how the password-sharing crackdown affects customer behavior.
Netflix rolled out its password-sharing service on an experimental basis during the second half of 2022 in four different international regions and claims it has been well received. In Canada, customers were asked to pay an extra $10.77 CAD per month for each extra user. Netflix reported that its overall base of subscribers in Canada has expanded since that rollout.
There's no telling how the password crackdown will impact the company's base of subscribers in the U.S., especially considering that the rollout will occur in spring and summer when Americans typically spend more time outdoors.
In addition to the aforementioned initiatives, the company also announced in its Q1 earnings report that it was winding down its DVD rental service. Twenty-five years ago, Netflix made a splash by renting DVDs through the mail with its widely recognized red envelopes.
According to a company report, the final DVD rental will be mailed out by Netflix on Sept. 29, 2023.
In its effort to raise revenue and earnings, the company can probably use the closure of its DVD rental business to help cut overhead.
Netflix programming
Looking beyond the numbers, Netflix can also draw new subscribers by making and releasing fresh content, especially of the viral variety.
During the week of April 6, Nielsen Holdings reported that 7 of the top 10 streaming programs were attributable to Netflix, as highlighted below.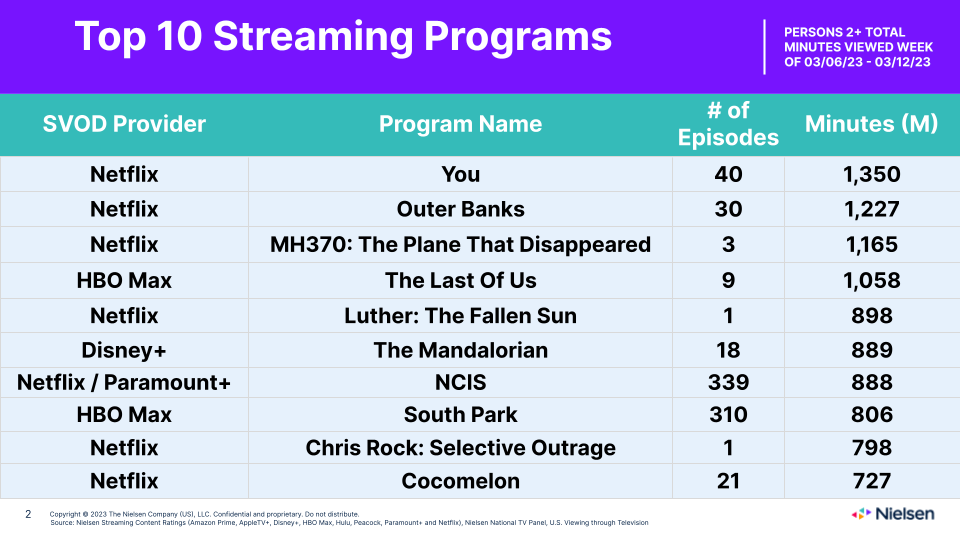 In 2023, Netflix is expected to spend roughly $17 billion on new content for its platform.
Some of the most highly anticipated upcoming Netflix content includes The Mother (May 12, 2023), Blood & Gold (May 25, 2023), Extraction 2 (June 16, 2023), Pain Hustlers (Oct. 27, 2023), The Killer (November 10, 2023), Rebel Moon (December 22, 2023), Havoc (TBD, 2023) and The Electric State (TBD, 2024).
For more context on the current corporate "earnings recession," check out this new Luckbox article. To follow everything moving the markets during Q1 earnings season, tune into tastylive, weekdays from 7 a.m. to 4 p.m. CDT.
Sage Anderson is a pseudonym. He's an experienced trader of equity derivatives and has managed volatility-based portfolios as a former prop trading firm employee. He's not an employee of Luckbox, tastylive or any affiliated companies. Readers can direct questions about this blog or other trading-related subjects, to support@luckboxmagazine.com.