Trading a Consolidation in the Energy Sector After Exxon Kicks Tires in Permian Basin
On April 7 Exxon Mobil held informal talks of mergers and acquisitions with Pioneer Natural Resources, potentially kicking off a fresh wave of consolidation in the energy sector.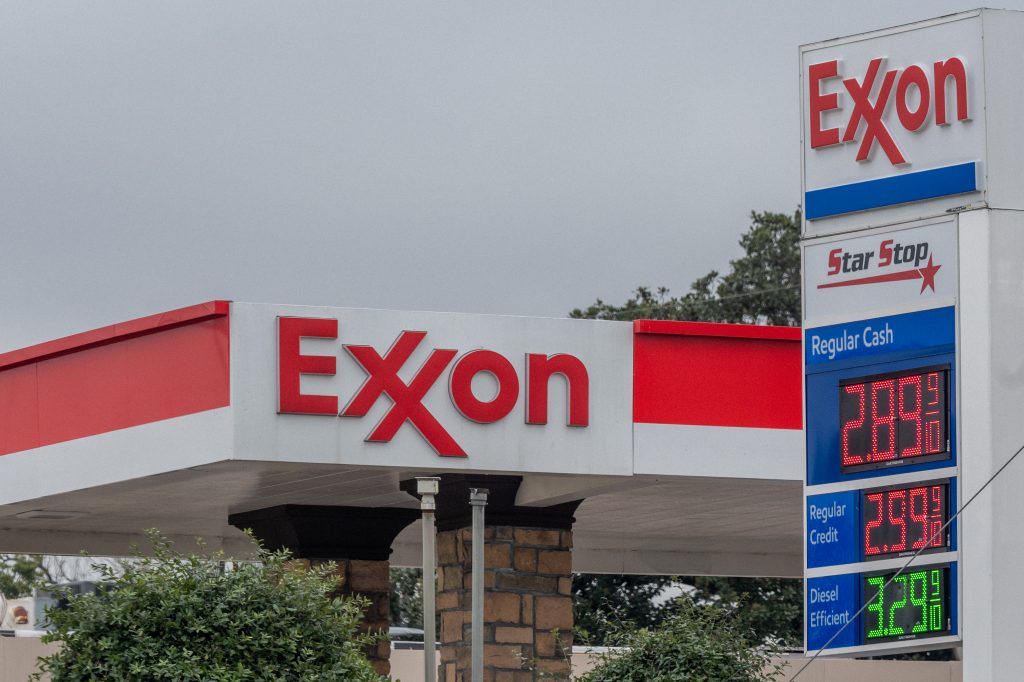 A report by the Wall Street Journal on April 7 indicated that Exxon Mobil (XOM) is considering a takeover of Pioneer Natural Resources (PXD)—a large American focused on hydrocarbon exploration in the Permian Basin.
Any conversations at this point have been informal and any potential deal isn't expected to close until later this year, or next year, if at all. That said, the deal would be a blockbuster—the largest tie-up in the energy sector since 2019—and would be a focus on Wall Street this week and beyond.
Clocking in at roughly $470 billion, Exxon Mobil is the fourth-largest oil and gas company in the world (by market capitalization), according to Investopedia. It's also the world's fourth-largest producer, pumping out some 5.3 million barrels per day (bpd), according to Forbes. Pioneer Natural Resources, on the other hand, is one of the largest fracking operations in the United States, with a current valuation of over $50 billion.
Fracking is a drilling technology that's used to extract oil and gas from reserves that are situated in horizontal fashion and embedded in shale rock. Using a high-pressure injection of water and sand, frackers attempt to crack (or fracture) solid rock formations, which allows oil and gas to flow more freely and to be easily extracted.
In the late 1990s, a modernized fracking approach known as slickwater fracturing was successfully applied to a shale rock formation in Texas. The technique has since migrated to other major shale rock formations in the United States. Prior to modern fracking, oil and gas reserves in most shale rock formations were considered inaccessible or economically infeasible.
The rise of fracking in the 21st century is one of the primary reasons the U.S. is once again one of the world's largest producers of oil and gas. The U.S. is now among the top three global producers of oil, along with Saudi Arabia and Russia.
'America's shale oil companies will rake in about $180bn of free cash flow this year, greater than the total earned over the past 20 years.' https://t.co/L1aV5D8yC8 pic.twitter.com/rCpxo8pX3t

— Jesse Felder (@jessefelder) May 16, 2022
The Permian Basin—which produces the most shale oil per day of any region in the country—is located in west Texas and southeastern New Mexico, and encompasses an area that is approximately 250 miles wide by 300 miles long.
The oil produced from fracking has become increasingly important to the overall U.S. energy industry and now accounts for more than 60% of the total oil produced in the U.S. on any given day.
Several of the other large shale oil-producing regions in the U.S. include the Eagle Ford, the Bakken and the Niobrara, which are located in Texas, North Dakota, Colorado and Wyoming.
However, the Permian Basin remains the largest player when it comes to daily oil production.
Pioneer Natural Resources is currently the second-largest producer in the Permian, with Exxon Mobil in sixth place. Exxon Mobil sees upside potential in Pioneer, which has an extensive catalog of properties in the Permian region that could be developed to rack up daily production.
Pioneer purchased two Permian operators in 2021 for a combined $11 billion, and those assets could be developed quickly if Exxon Mobil's vast financial resources were directed at them.
After cashing in on high energy prices over the last couple of years, Exxon Mobil is currently in an advantageous capital position—the company banked nearly $56 billion in profits during 2022. Moreover, the company is on the hunt for new reserves after experiencing several setbacks in 2022.
One of the company's more significant losses came as a direct result of the war in Ukraine. Last year, Exxon lost control of its business operations in Russia, and took a $3.4 billion accounting charge in the first quarter to reflect those losses. And last week, the company was forced to abandon its expensive effort to find oil in the deep waters off the coast of Brazil.
The Permian Basin has been a popular target for mergers and acquisitions (M&A) in recent years, with large players frequently stepping in to scoop up emerging producers. In 2019, Occidental Petroleum (OXY) purchased Anadarko Petroleum for $57 billion. Occidental is one of the other big fish in the Permian Basin and currently pumps out the most oil per day of any operator in that region.
However, a tie-up between Exxon Mobil and Pioneer Natural Resources would launch the combined entity to first place in the Permian production rankings.
Like many other oil majors, Exxon Mobil has previously grown its footprint using the American fracking sector. Back in 2010, Exxon Mobil purchased XTO Energy for roughly $41 billion.
In that regard, Exxon Mobil would essentially be taking a page out of its own playbook if it were to acquire Pioneer Natural Resources.
Oil prices are down substantially in 2023 as compared to last year, and many experts had predicted that the industry could see a wave of consolidation in the coming months. That means other large, independent frackers could also see M&A interest in 2023.
In addition to Pioneer Natural Resources, some of the other large, independent American frackers include Apache (APA), Coterra Energy (CTRA), Devon Energy (DVN), Diamondback Energy (FANG), EOG Resources (EOG), EQT Corporation (EQT) and Murphy Oil (MUR).
To follow everything moving the markets—including the latest M&A news—tune into tastylive, weekdays from 7 a.m. to 4 p.m. CDT.