Trading Tech Advancements in Marine Shipping
Advancements in marine technology (aka "marine tech") have accelerated in recent years, and some of the new startups in this sector will likely shape the future of the industry.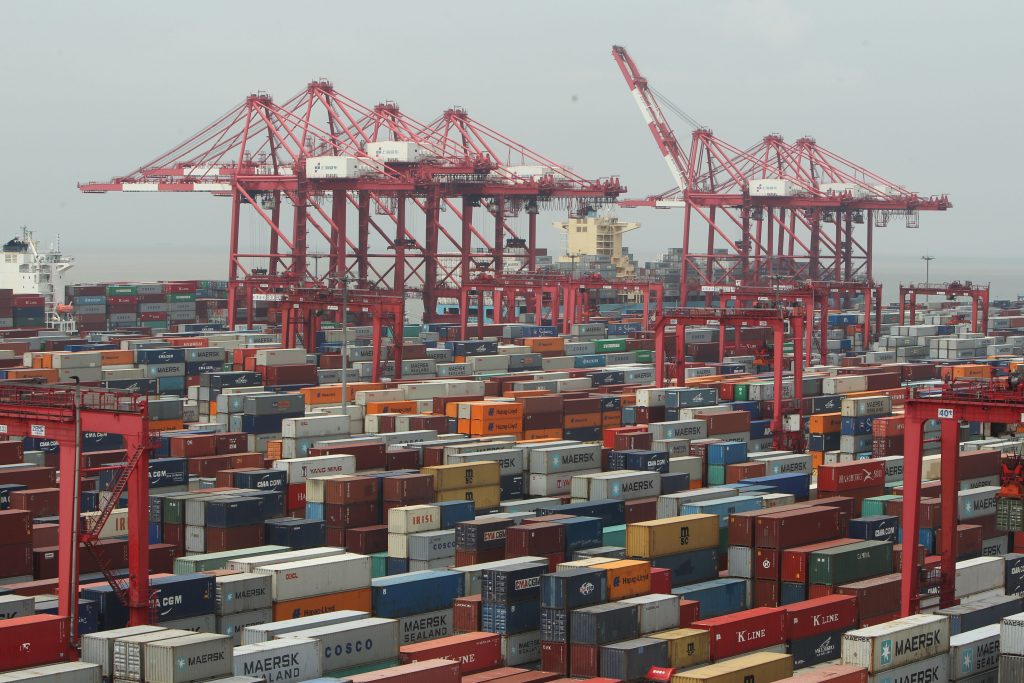 Most technology advancements these days seem to center on cities and clouds (the digital variety). But big tech may soon be setting sail on the high seas.
After all, more than 70% of Earth's surface is covered by water. And 97% of that water is held by the world's oceans. Importantly, however, humans can't exist in water without breathing assistance, which is likely why marine technology (aka "marine tech") has been somewhat delayed in joining the digital revolution.
But a closer look at emerging marine tech shows that the possibilities in this space may be as vast as the oceans themselves.
In recent years, an astounding number of startups have unveiled plans to tackle a diverse group of marine-related challenges. The proposed solutions range from simple land-to-sea crossover ideas, like electric-powered marine vessels, to ocean-specific innovations such as tidal turbines. 
But let's start by covering marine tech advancements linked to a linchpin of the global economy: ocean freighting/shipping.
In the current global economy, goods are often manufactured in one region of the world and consumed in another. Consequently, the importance of the world's oceans in the facilitation of global trade is critical. In fact, data shows that 90% of global importing/exporting is conducted via ocean freighting.
And the shipping responsibilities fall on the shoulders of the roughly 95,000 vessels in the world that constitute the "commercial fleet." Of that number, about 6,000 are container ships—those enormous barges that effectively provide a bridge between land-based manufacturing and storage facilities. 
Now, 95,000 vehicles may not sound like that many, especially considering that the world produced over four million new heavy trucks in 2018 alone. But the environmental impact of ocean freighting takes on a slightly different hue when drilling deeper into the numbers.
Ocean freighting constitutes only 4%-5% of annual global carbon emissions. However, when considering other types of harmful emissions (besides carbon), that percentage shoots up considerably.
For example, when accounting for the emissions of sulfur and particulates, ocean-related freighting emissions jump to 15% and 11%, respectively. 
That's because for nearly half a century, the marine shipping industry has relied almost exclusively on heavy fuel oil (HFO). HFO is plentiful and cheap, but it's also extremely dirty. The impurities are especially concentrated because HFO is a residual of the oil refining process.
That means those floating barges are belching out some of the more toxic emissions on the planet. 
In terms of marine tech, one of the more significant opportunities therefore revolves around the potential to replace HFO with more environmentally friendly energy sources. And with fuel often representing as much as 50% of the cost for ocean freighting, there's theoretically a huge opportunity for innovators to grab a big share of available revenues, too.
Given those financial realities, it's no surprise that electric-battery innovators have started to materialize in the maritime industry. 
The first big splash in this niche was announced recently when Stena Lines of Sweden ordered the world's first battery-powered car ferry, with plans to use it by the year 2030 on a popular route between Sweden and Denmark (the Gothenburg-Frederikshavn route).
At 200 meters in length, the lightweight Stena Elektra vessel will have a capacity for 1,000 passengers and 3,000 lane meters of freight, with the capability to run 50 nautical miles on a single charge. Given that Stena Lines is one of the largest ferry operators in the world, this initial order may only represent the tip of the iceberg. 
But marine-focused electric batteries represent an animal in terms of scale, which is why such technologies probably won't be ubiquitous on the high seas anytime soon, even if in-roads are made in the ferry niche. 
As a result of that reality, some marine tech startups have approached the problem from a different perspective. For example, several prominent marine techs have instead opted to assist marine shippers in honing their fuel efficiencies. 
The graphic below illustrates the various parts of a marine vessel that could potentially be optimized to improve overall fuel efficiency in an effort to reduce fuel costs and environmental impacts. 
Tweaking the operations of existing vessels using the techniques highlighted above could reduce fuel consumption by 12% annually. 
But these improvements may not be transformative enough to meet the aggressive goals the industry has set for reducing greenhouse gases in the 21st century. In 2018, the International Maritime Organization (IMO), a United Nations body that regulates the industry, agreed to cut emissions by 50% by the year 2050.
As such, more drastic changes may be necessary. 
One promising source of energy being promoted as a potential savior for ocean freighting seems at first blush like a very unlikely candidate: ammonia. 
But ammonia immediately checks a couple important boxes when it comes to greener tech in shipping—it emits no carbon dioxide (when burned) and it is abundant. Additionally, it is viable as a fuel in internal combustion engines and doesn't require special handling in storage.
Ammonia is also said to have a significantly higher energy density than lithium-ion batteries, in pound-for-pound comparisons. 
For all these reasons and more, ammonia is gaining favor across the global shipping industry. Theoretically, ammonia-powered vessels would be climate-friendly and cost effective while still provide the energy necessary to maintain weeks-long voyages. 
On the other side of the equation, one has to consider that not one ship in the world is yet equipped to run on ammonia. Moreover, the supply chain necessary to service this type of transformation is nonexistent. 
But one has to start somewhere.
And that somewhere looks to be Norway. By 2024, the Norwegian-registered vessel Viking Energy will likely become the first to be powered by ammonia fuel cells. The ship currently runs on natural gas but will be refitted to handle ammonia during the next couple years. 
It's all but guaranteed that new buildings for additional ammonia-powered vessels will be announced in the coming months and years. 
Despite the nascent stage of ammonia's development as a shipping energy source, many industry-wide experts think that the revolution could strike hard and fast. Accordingly, some projections suggest that ammonia-powered vessels could account for 25% of the global commercial fleet by 2050, and by 2044, all new vessels hitting the water will be outfitted to run on ammonia.
With the shipping industry sucking down more than 300 million tons of heavy fuel oil each year, things are going to have to change quickly if the industry wants to meet its longer-term goals. 
But where there's a will, there's often a way.
Beyond the global ocean freighting industry, there are plenty of other marine tech startups rising to meet other ocean-related challenges. Several of the most prominent projects include:
Arc Marine has designed innovative "reef cubes" that can help boost large-scale coral restoration projects. The company's patented solution enables the creation of reef structures anywhere in the world.
C-LOG provides a blockchain-enabled platform for secure identification (DID). The platform enables cross-industry data collaboration, linking stakeholders from the entire maritime value chain in a trust system.
CHARM is a coral farming robot developed using AI to help reduce costs and save time in facilitating the growth of large-scale coral colonies. The group is partnered with nonprofits such as the Beyond Coral Foundation with a mission to protect coastal ecosystems.
ECOncrete has developed a revolutionary approach to eco-engineering urban, coastal, and marine infrastructure, providing robust, environmentally sensitive concrete solutions for ever-changing climate change-related threats such as sea-level rise and superstorms.
Seatrec is a California-based startup that uses temperature changes in ocean water to power autonomous underwater vehicles (AUVs). This emerging marine tech is looking to begin testing an underwater glider powered by a thermal engine later this year.
SharkSafe Barrier is a beach protection system that biomimics the visual look of a kelp forest, combining it with magnetic stimuli to form an eco-friendly barrier that deters shark species from passing through in order to protect humans from sharks without harming precious marine life.
Simec Atlantis Energy is building tidal turbines to harness energy produced by the world's oceans. In February, an AR500 tidal turbine built and tested in Scotland was permanently installed off the coast of Japan and generated 10 megawatt hours in its first 10 days of operation.
To track and trade advancements in the marine shipping sector, these single stocks and exchange-traded funds (ETFs) may be of interest: Danaos Corp (DAC), Eagle Bulk Shipping (EGLE), Euroseas Limited (ESEA), Invesco Shipping ETF (SEA), Kirby Corp (KEX), Navios Maritime Containers (NMCI), S&P Transportation ETF (XTN), Sino Global Shipping (SINO) and Star Bulk Carriers (SBLK).
To follow everything moving the markets, readers may also want to tune into TASTYTRADE LIVE, weekdays from 7 a.m. to 4 p.m. Central Time.
Offer extended through April 1st:
Subscribe to Luckbox in print and get a FREE Luckbox T-shirt! 
See SUBSCRIBE or UPGRADE TO PRINT (upper right) for more info.
Sage Anderson is a pseudonym. He's an experienced trader of equity derivatives and has managed volatility-based portfolios as a former prop trading firm employee. He's not an employee of Luckbox, tastytrade or any affiliated companies. Readers can direct questions about this blog or other trading-related subjects, to support@luckboxmagazine.com.