Trading the New Geopolitics of the Global Semiconductor Industry
The small island of Taiwan has become a geopolitical flash point due to its key role in the global microchip industry, which is a big reason that U.S. lawmakers were recently compelled to support the American CHIPS and Science Act.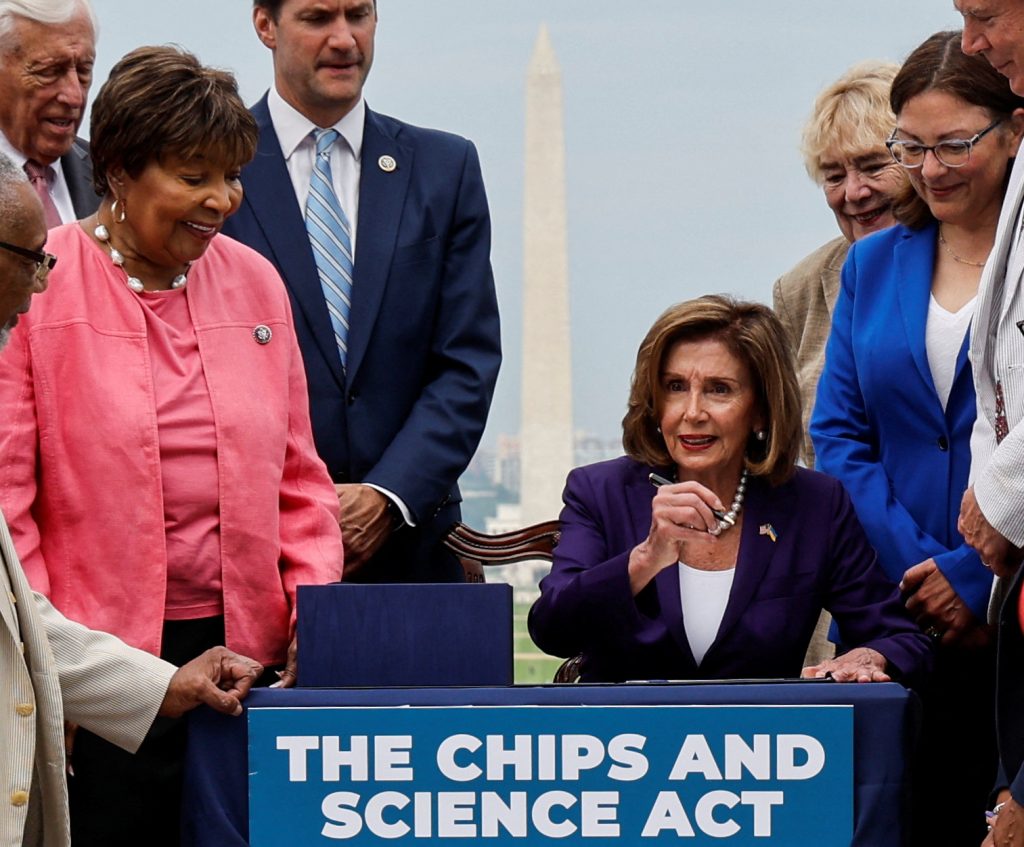 Considering the contentious state of the American political landscape, the recent bipartisan passage of the CHIPS and Science Act seems nothing short of miraculous.
The fact that acrimonious Congressional members were willing to set aside their political differences to move this bill forward underscores not only the importance of the semiconductor industry to America's continued economic success, but also the unique opportunity that exists at this moment in time.
Microchips have been in focus during the last couple of years due to shortages that were exacerbated by the COVID-19 pandemic. But that unfortunate situation should also be credited for laying bare the obvious—America's dominant position in the global semiconductor industry was quickly eroding. 
However, the situation hadn't yet reached the point of no return, which is why politicians and business leaders in the United States came together to try and reinvigorate the industry. The possibilities and potential of a new age of semiconductor leadership in America was apparently so alluring that not even Congress could ignore it. 
Interestingly, the U.S. appears to have borrowed a page from China's domestic economic playbook to climb back up the competitive ladder—using state resources to bolster the private sector. 
Through the $280 billion CHIPS and Science Act, the U.S. government aims to improve the U.S.'s competitiveness in existing high-tech industries, as well as to foster the conditions necessary to catalyze a fresh wave of innovation. The legislation earmarks $52 billion for the domestic semiconductor sector, and authorizes a 25 percent tax credit for new or expanded facilities that make semiconductors or chipmaking equipment.
Interestingly, the bill also specifically forbids companies that receive these funds from initiating (or expanding) advanced semiconductor manufacturing operations in China, or any other country that "presents a national security threat to the United States."
Brief History of the Semiconductor Industry
The U.S. was one of the world's first major players in the semiconductor industry.
Back in 1947, scientists in the U.S. laid the groundwork for the modern microchip through the invention of the point-contact transistor. This was followed by the invention of the first integrated circuit (IC) in 1959. Then, in 1967, Texas Instruments (TI) introduced the world's first calculator featuring an integrated circuit.
The ensuing "calculator wars" kicked off a new era of circuitry innovation, which saw the invention of large-scale integrated circuits (LSI) in the 1970s, and ultimately the mass production of system LSIs (which integrated multiple functions in a single chip) during the early 2000s. 
Today, those products have developed into what's known as microchips (aka semiconductors or integrated circuits)—interconnected electronic components (such as transistors and resistors) that are etched or imprinted onto silicon. This industry has advanced to such a degree that microchips can now be built with billions of transistors/resistors on a single chip. 
Source: ComputerHistory.org
Current Industry Structure
Microchips have become so intertwined with modern society that it's become virtually impossible to imagine life without them.
Every day, people rely on microchips to communicate with family (smartphones), conduct business (computers) and commute to work (vehicles). But despite their importance in everyday life, few people have likely thought about where these products are designed and manufactured. 
For many years, American companies dominated when it came to chip manufacturing. That's the reason companies like Intel (INTC) and Texas Instruments (TI) are household names today.
In 1990, roughly 40% of all microchips were manufactured in the U.S. But, today, that figure has slipped to 12%. Globally, more than 1 trillion microchips were shipped in 2021. 
And while the industry is highly developed, it's far from mature. Right now there are four primary types of companies involved in chip manufacturing: pure-play foundries, fabless manufacturers, integrated device manufacturers (IDMs) and outsourced semiconductor assembly and testing entities (OASTs). 
Pure-play foundries typically receive chip designs from their customers and then produce those designs on a contract basis. IDMs can execute both the design and manufacturing of chips, while so-called fabless manufacturers only design the chips, and then outsource their production to foundries. OSATs deal with the back-end of the manufacturing process. 
Examples of IDMs include Intel, Samsung and Texas Instruments. Fabless companies include the likes of Advanced Micro Devices (AMD), Nvidia (NVDA) and Qualcomm (QCOMM). Pure-play foundries include Taiwan Semiconductor Manufacturing Company (TSMC), Globalfoundries (GFS) and United Microelectronics Corporation (UMC).
The U.S. is one of the industry leaders when it comes to designing chips, but far less influential when it comes to the production of those chips, as illustrated below.
Taiwan has become one of the world's dominant leaders in semiconductor research and manufacturing. Today, it's estimated that Taiwan accounts for nearly 65% of global pure-play foundry production, with South Korea, the U.S., and China accounting for roughly 18%, 12%, and 6%, respectively. 
The biggest player in the Taiwanese semiconductor industry is TSMC, and it's also one of the most sophisticated. The company accounted for roughly 54% of the world's total pure-play foundry revenue in 2021. And it is one of three companies—along with Samsung and Intel —that can produce the most advanced chips on earth.
Notably, there is not a manufacturer of highly advanced microchips in mainland China. 
Mainland China does have a top-5 foundry—Semiconductor Manufacturing International Corporation (SMIC)—but that entity has found it hard to move up the technological ladder, most recently because it was added to the American blacklist (i.e. "entity list") by President Trump's administration. 
The CHIPS and Science Act is intended to help bolster American manufacturing of semiconductors just as the industry is expanding to meet record demand for these products. Without this assistance, it's likely that the current trend—Asia's tightening grip on the global microchip sector—would have intensified. 
Thanks to the passage of the bill, both Texas Instruments and Intel are now almost certain to open new microchip production facilities in the U.S. within the next two to four years. But other global companies—like Samsung and the SK Group from South Korea—have also announced plans to expand chip-related manufacturing activities in the U.S.
It's likely that additions to U.S. semiconductor manufacturing capacity will be announced soon. 
Geopolitical Implications
Looking back at history, countless wars have been fought over the control of precious commodities, such as gold, grain and oil, to name a few. 
One could argue that the current conflict in Eastern Europe is also being fought in part due to the control/distribution of a precious commodity. Ukraine had been charging Russia billions of dollars per year to allow the latter country to pump oil and natural gas through its sovereign territory. 
In the near future, it could be semiconductors—or even lithium—that dictate the geopolitical landscape. 
Quietly, Taiwan has become one of the world's most integral links in the global semiconductor supply chain. And not only in terms of scale and volume, but also in terms of sophistication. Unfortunately, that technological leadership has also turned Taiwan into a political lightning rod. 
China has long considered Taiwan part of its sovereign territory, but the two regions have been governed separately since China's Civil War ended more than 70 years ago—when the defeated Nationalists fled to the island of Taiwan. 
Despite the fact that Taiwan has been self-governed for many years, China continues to view Taiwan as inseparable from the mainland, and hasn't ruled out the use of military force to take control of what it views as a "breakaway" province. 
In 2004, China even passed a so-called anti-secession law, laying out China's right to use non-peaceful means against Taiwan if it tries to secede from China.
Taiwan, for its part, has continuously rebuffed any attempts to reunify with the mainland. And due to its strategic importance as a high-technology manufacturing hub, countries with close ties to Taiwan (such as the U.S.) have continued to support the territory's efforts to remain independent—much to the chagrin of mainland China. 
While the Taiwan situation is extremely complex, one of the primary pain points relates to the U.S.' unspoken promise to intervene on Taiwan's behalf in the event of an invasion by China. That tacit agreement ties back to World War II, when the U.S. was partnered with the Nationalists of China—the same group that eventually relocated to Taiwan. 
Technically, the U.S. hasn't explicitly committed itself to the defense of Taiwan, but under the guise of "strategic ambiguity," the U.S. military complex has quietly stocked Taiwan with billions worth of military arms—including highly-sought fighter jets and ground-to-air missiles.
As a result of these simmering geopolitical tensions, Taiwan has been an increasingly popular subject for the global media. 
That was evident on Aug. 3, when U.S. Speaker of the House of Representatives Nancy Pelosi sparked an international maelstrom by visiting Taiwan as part of a broader diplomatic trip to the Far East. Pelosi didn't skirt the issues at hand, either, when she stated publicly on her visit that the U.S. would "not abandon" the self-governed island. 
The response from China was likewise unequivocal, and arguably more antagonistic. China has been conducting military exercises in the Taiwan Strait frequently in recent years, and has routinely dispatched military aircraft into Taiwan's air defense zone. 
On the same day of Pelosi's visit, China sent 21 of its J-20 stealth fighters jets into Taiwanese airspace—a clear message of its discontent. Government officials in Beijing characterized the Speaker's Taiwan visit as "extremely dangerous," and added that further "targeted military action" would follow.
Source: VOAnews.com
In a vacuum, these events might best be characterized as "saber rattling," as nobody expects the U.S. and China to go to war over Taiwan anytime soon. However, few expected Russia to expand its war with Ukraine in 2022, either.
Geopolitics can have a huge impact on the global economy and supply chain. That means any potential narrative that could further disrupt the already fragile global semiconductor supply chain will be of great interest to global investors and traders. 
With microchips already in short supply, one can only imagine what might happen to the price of these devices—as well as the broader global economy and financial markets—if Taiwan's high-tech output was ever knocked offline.
Investors and traders involved in the semiconductor industry may therefore want to keep the new geopolitical landscape in mind when considering future opportunities in this sector. The fact that the American government is now essentially supporting the sector may also be an important consideration.
To follow everything moving the financial markets, tune into TASTYTRADE LIVE—weekdays from 7 a.m. to 4 p.m. CDT.
Sage Anderson is a pseudonym. He's an experienced trader of equity derivatives and has managed volatility-based portfolios as a former prop trading firm employee. He's not an employee of Luckbox, tastytrade or any affiliated companies. Readers can direct questions about this blog or other trading-related subjects, to support@luckboxmagazine.com.