Trading Trump, Memes and SPACs with DWAC
Digital World Acquisition Corp. (DWAC) took the markets by storm as the collision of Donald Trump, meme stocks and SPACs catalyzed strong interest in the underlying shares.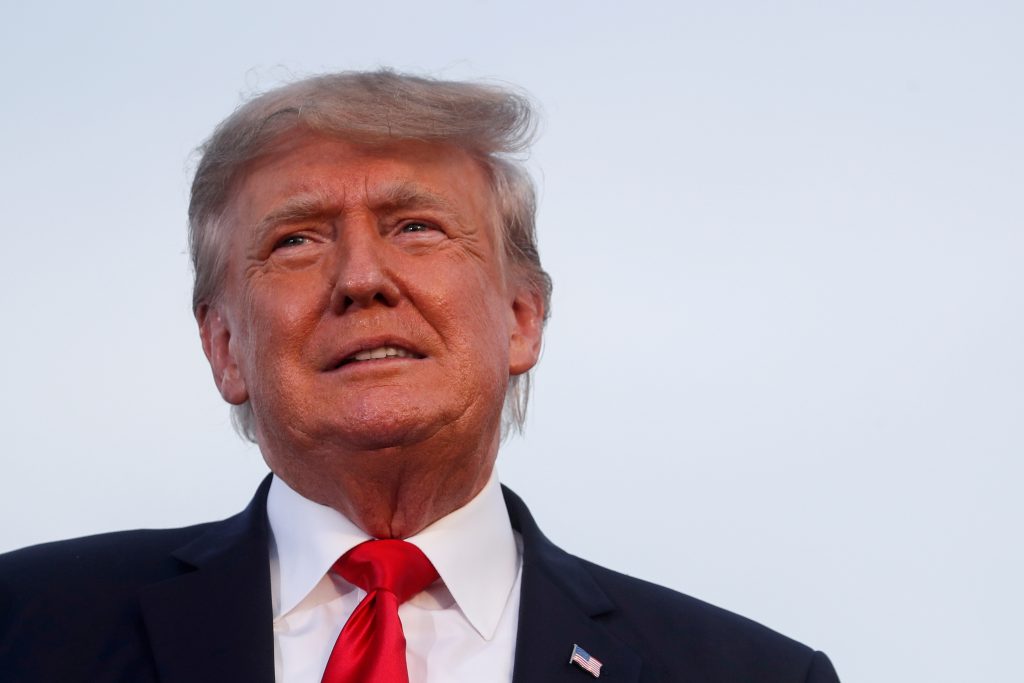 Two of the biggest market trends of the last 12 months appeared to converge last week when little-known stock Digital World Acquisition Corp. (DWAC) surged on news that it had merged with a digital media company affiliated with former U.S. President Donald Trump.
DWAC dazzled the market not only because of its affiliation with Trump, but also because it appears to have been anointed a so-called "meme stock." And DWAC's trendiness factor doesn't stop there, as it's also a special-purpose acquisition company, or SPAC—a niche of the stock market that's also become somewhat fashionable during the pandemic.
SPACs like DWAC raise cash with the intent of investing it into a specialized product or sector of the market. Typically, they are created by industry experts looking to invest in emerging opportunities, or by financial gurus who know how to attract capital.
In short, SPACs are basically shell companies that aspire to become relevant through mergers with early-stage companies developing a promising product or service. DWAC appears to believe their best path forward lies with Donald Trump's upcoming foray into the media and technology sectors.
Last week, the former president announced he founded a new company called the Trump Media & Technology Group (TMTG) that plans to build a social media platform intended to compete with the likes of Facebook (FB) and Twitter (TWTR).
At that time, Trump also revealed that TMTG would be merging with DWAC, which is why the latter stock was thrust suddenly into the spotlight.
On the 20th, DWAC closed trading at $9.96/share. Two trading days later, in the wake of the news it would merge with TMTG, the stock closed at $94.20/share, an increase of 845%. During the day on Oct. 22, DWAC reached an intraday high of $175/share, a clear indication of the extreme volatility that might lie ahead.
Options aren't currently listed on DWAC, but that will likely change in the near future.
The SPAC trend caught fire in 2020 and remained hot through the early part of 2021. However, new SPAC deals fell off significantly in the second and third quarters of 2021, as illustrated in the chart below.
The decline in new SPAC announcements in Q2 and Q3 might be related to the fact that performance in SPAC stocks (post-merger) has been below average lately.
Similar to a "selling the news" approach, historical trading data shows that SPACs often rally during the period prior to a deal announcement but then tend to fall back down to earth after the consummation of the official merger.
For example, of the 172 announced SPAC deals since the start of 2020, the average SPAC has outperformed the Russell 3000 from its IPO through the announcement of an upcoming merger. However, six months after the deal closes, the average SPAC has performed about 40% worse than the Russell 3000.
Case in point, the Defiance Next Gen SPAC Derived ETF (SPAK) has lost roughly 34% of its value since Feb. 15 of this year.
According to Renaissance Financial, 70% of the SPACs to IPO in 2021 are trading below their $10/share offer price ($10/share is the standard IPO price for a SPAC). Of the SPACs that have completed mergers in 2021, 58% are trading below their original offer price.
Investors and traders in DWAC may want to keep those statistics in mind as DWAC and TMTG approach their official merger date.
Of course, no two SPACs are created equal, and the ability of DWAC to produce a popular social media platform—or another valuable product/service—will ultimately dictate which direction the stock moves in the coming months and years.
As mentioned previously, DWAC buzz also appears to be benefiting from new membership in the "meme stock" club. Meme stocks are infamous for the hype they enjoy on social media outlets, although that doesn't mean they always deliver when it comes to business fundamentals.
Last week, it became clear that the same social media forum that made GameStop (GME) and AMC Entertainment (AMC) famous was heavily involved in DWAC. DWAC was not only one of the top mentions on Reddit's "WallStreetBets," but it was also the most actively traded stock on the Fidelity platform on Oct. 21.
History suggests that DWAC's affiliation with the Reddit investing/trading crowd will more than likely catalyze higher-than-normal volatility in the underlying shares.
Over the past 52 weeks AMC has ranged between roughly $2/share and $72/share and currently trades for $37/share. GME, for its part, has ranged between roughly $10/share and $500/share over the last 52 weeks and currently trades for $171/share.
DWAC appears to fit the meme stock mold perfectly, as it ranged between $10/share and $175/share during the two days immediately following the Trump announcement.
DWAC's affiliation with the former president will undoubtedly afford the stock a sky-high profile on Wall Street as well—another consideration that can't be overlooked when it comes to visibility and volatility of the underlying shares.
For more context on meme stocks, readers are encouraged to review this previous installment of Options Jive on the tastytrade financial network.
For timely insights on everything moving the markets, readers can also tune into TASTYTRADE LIVE weekdays from 7 a.m. to 4 p.m. Central Time at their convenience.
Get Luckbox! Subscribe to receive 10-issues of Luckbox in print! See SUBSCRIBE or UPGRADE TO PRINT (upper right) for more info or visit getluckbox.com.
Sage Anderson is a pseudonym. He's an experienced trader of equity derivatives and has managed volatility-based portfolios as a former prop trading firm employee. He's not an employee of Luckbox, tastytrade or any affiliated companies. Readers can direct questions about this blog or other trading-related subjects, to support@luckboxmagazine.com.